Marvel's Avengers - Endgame Edition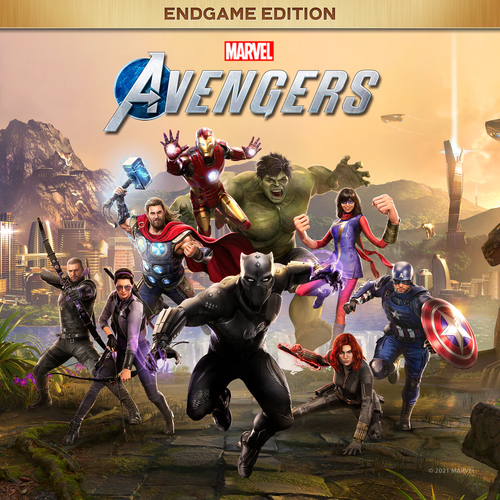 Year of release: 2020
Genre: Action, RPG, Strategy
Developer: Crystal Dynamics, Eidos-Montréal, Nixxes
Publisher: Square Enix
Platform: PC
Edition Type: Steam-Rip (thx InsaneRamZes)
Version: 2.0.3.0
Interface Language: English, Russian, MULTi
Audio Response Language: English, Russian, MULTi
Vehicle: Present {Goldberg Steam Emu}
*Modified in the game settings
---
Cấu hình tối thiểu
System requirements:
- OS: Windows 10 (x64)
- Processor: i3-4160 / AMD equivalent
- RAM: 8 GB
- Graphics Card: NVIDIA GTX 950 / AMD 270 (min 2GB video ram)
- Disk space: 149.5 GB (~78 GB with one voice acting language and without 4K textures)
---
Trích dẫn
Plot: You'll have to assemble a team of Earth's Greatest Heroes, embrace your power, and live out your dreams of exploits.

"Marvel's Avengers" is a grand third-person action-adventure game that combines an engaging story and addictive gameplay in both single-player and co-op play. Form an online team of up to four people, master incredible abilities, choose heroes from a regularly growing list and defend the Earth from an impending threat.

The game's action begins on Avengers Day, when Captain America, Iron Man, Hulk, Black Widow and Thor inaugurate the new Avengers headquarters in San Francisco. Alas, the festivities are not destined to last long: an unknown enemy causes a terrible disaster that turns into numerous victims and destruction. The Avengers are blamed for the tragedy, and the squad disintegrates. Five years later, at a time when superheroes have been outlawed and the world is in danger, the determined young Kamala Khan sets out on a perilous journey. She faces a difficult task: to find and reunite the Avengers to fight back a mysterious new force - AIM.

The Marvel Avengers game is a grand adventure that will be constantly updated with new heroes and new storylines.
Trích dẫn
Game Features:
- Assemble a team of heroes and fight the AIM alone or with friends.
- Master the skills and equipment of Earth's greatest heroes.
- Dress up your favorite heroes in classic, popular or brand new costumes inspired by Marvel history.
- A flexible combat system, dynamically changing level of difficulty and ample opportunities to combine equipment and skills to suit the unique combat style of each hero.
- Players will experience hero missions and hot spots around the world.
- Gather a team of 4 and protect the Earth from threats that only the Avengers can handle.
- After the game's release, the story will continue to evolve for years to come, complete with new heroes and stories for free.
Trích dẫn
Selective download
If you do not need 4K textures, you do not need to download these files:
bigfile.update1.000_ultra.000.tiger
bigfile.update1.000_ultra.001.tiger
bigfile.update1.000_ultra.002.tiger
bigfile.update1.000_ultra.003.tiger
bigfile.update1.000_ultra.004.tiger
bigfile.update2.000_ultra.000.tiger
bigfile_ultra.000.tiger
bigfile_ultra.001.tiger
bigfile_ultra.002.tiger
bigfile_ultra.003.tiger
bigfile_ultra.004.tige
bigfile_ultra.005.tiger
bigfile_ultra.006.tiger

---
Trích dẫn
Endgame Edition
The Endgame Edition includes:
"Marvel's Avengers.
Black Widow costume "Marvel Studios: Avengers: The Finale"
Falcon Eye costume "Marvel Studios: Avengers: The Finale"
Iron Man's "Fancy Blood" costume
Hulk costume "Gladiator"
Thor costume "Young Thor"
Captain America costume "The embodiment of patriotism"
Miss Marvel costume "With experience"
Kate Bishop costume "Bird of Prey"
---

Hướng dẩn cài đặt.
Installation #1 (normal):
1. Copy the contents of the release to any location on your hard drive;
2. Copy the contents of the Crack folder into the game folder, replace;
3. Run the game from the avengers.exe file in the game's main directory;
4. profile name can be changed in the file steam_settings/force_account_name.txt;
5. The game language can be changed in the file steam_settings/force_language.txt.

Installation #2 (for license owners):
Attention! Before installing in the Steam client, the game must already be registered on the account, and the Steam client itself - closed!
1. Copy the folder with the game Marvels Avengers in the folder with your Steam-client, the path (/Steam/steamapps/common);
2. Copy the contents of the Steam folder into your client folder;
3. Play.